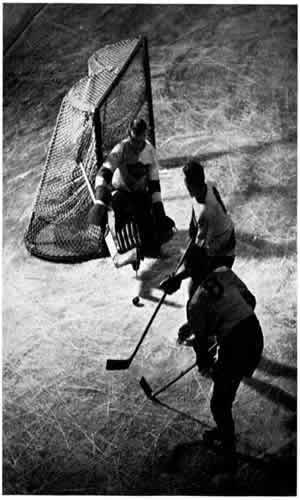 About the Author
Many hockey writers talk about being in love with the game. It happens. I, for one, fell fast and hard -- ramping up from complete indifference to total infatuation in the space of about three months. Now I watch every game I can. I travel long distances to be at games. The living room has stacks of hockey-related newspapers and magazines and glossy hockey coffee-table books. I got the team license plates.
I have joined the legions of hockey lovers who stack tv's to watch simultaneous playoff games in the spring, pine and fret in the summer, and schedule life around important games in the colder months. We're talking about a serious life-style change for a forty-something female professor with no prior sports fan experience.

Of course, being an academic type, I am driven to not only read, but to write. Hence this website of hockey haiku.
The book that changed my life is ``Ice Hockey Made Simple: A Spectators Guide,'' by P. J. Harari. That and an eleven-year-old goaltender son. Once I learned the rules, I could follow the game. Once I could follow the game, I couldn't look away.

C. C. McGeoch
2003